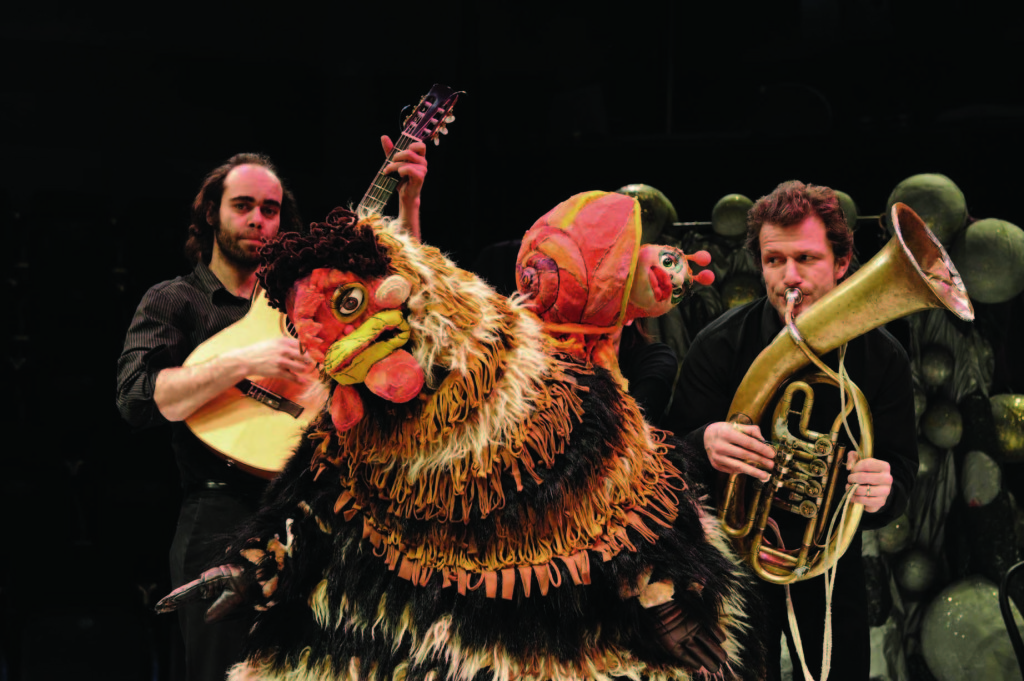 Brina Vogelnik – BibaMica
Petra Pikalo, Bela Pikalo – Matkurja
Luka Ropret – guitar
Jaka Hawlina – baritone tube
A Concert Puppet Show of children's songs from the TV Puppet Series BISERGORA/PEARLMOUNTAIN.
BibaMica longed for songs from Bisergora. She would like to listen and sing them again with the children.
On the pearls, she rolled off to the concert, where the children are already waiting for her. Where are the songs? We still remember them: BIBA LEZE, BIBA GRE …/SNAIL GOES … and MAK, MAK, MAK/POP, POP, POP … and VETER/WIND … and all the others, until the last one: WHERE HAVE ALL THE GAMES GONE … But where did they hide? Perhaps BibaMica brought them with her in pearls from Bisergora?
Let's see!
Brina, Luka and Jaka will conjure them from pearls at the concert, and they will ask children for help. MatKurja will join them in this, because nothing really escapes her cackles these days. Good luck!

The Show is 35 minutes long. It can be performed outdoors or indoors.
The extremely popular Concert Puppet Show Bibamica na koncertu/BibaMica at the Concert was created based on the renowned TV Puppet Series Bisergora/Pearlmountain, which has grown to the hearts of many children – as well as their parents. Instead of foreign heroes, the series and the concert performance bring to life once familiar children's songs from the Slovenian cultural heritage, which slowly began to be lost.
Photo by Tatjana Splichal