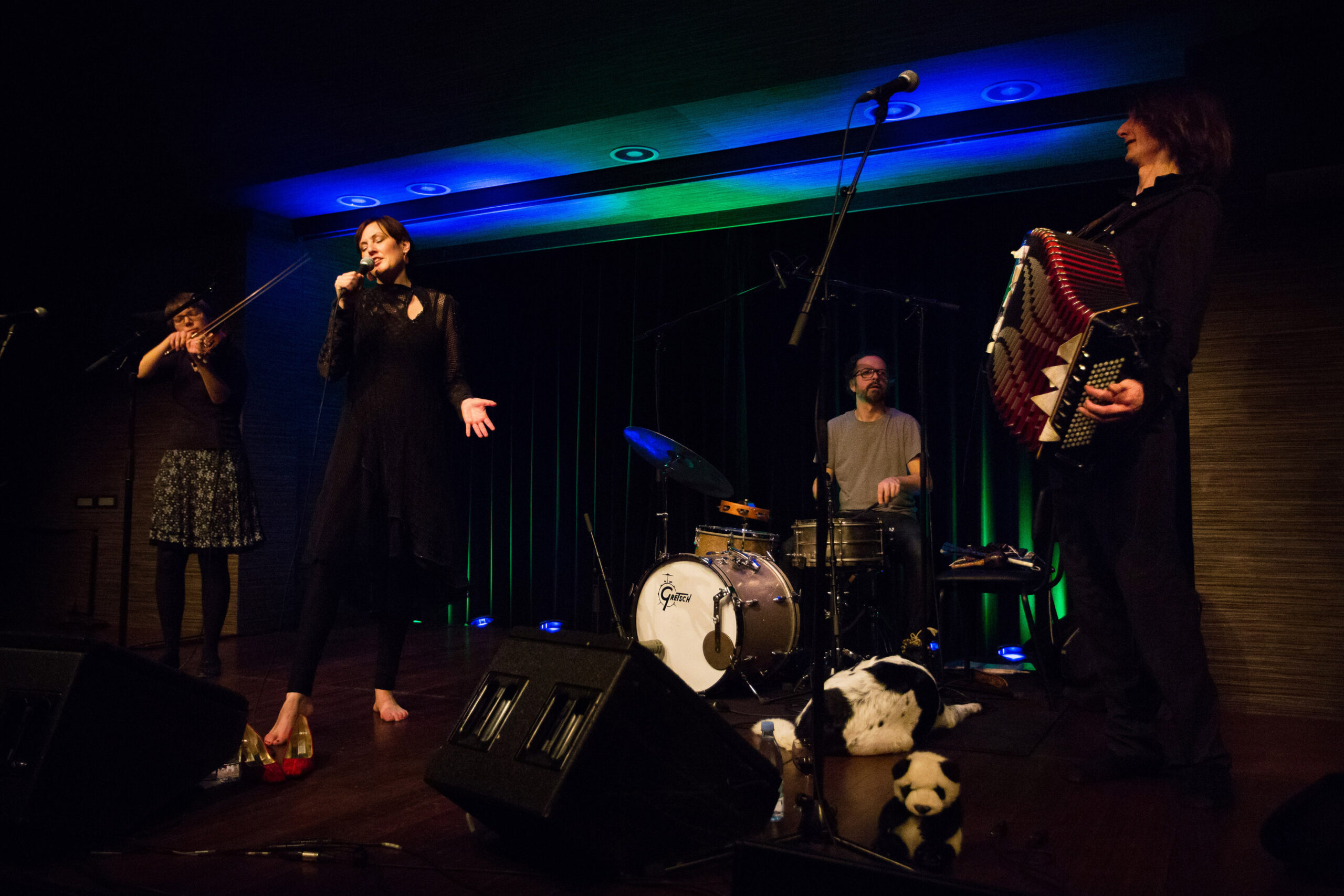 GRAD GORI!/BURNING CASTLE!
Brina Vogelnik – voice
Barja Drnovšek – violin, viola, backing vocal
Matija Solce – accordion, backing vocal
Blaž Celarec – percussion
When folk heritage meets the creativity of the Grad Gori!
Grad gori!/Burning Castle! is a fresh and innovative local composition, which includes folk heritage from different corners of the world, traditional music with folk motifs, folk songs and stories in its musical expression.
The love of folk music brought together four versatile artists in the new band: Brina Vogelnik, songwriter, musician and singer, Matija Solcet, charismatic accordionist, fantastic violinist and classical musician Barja Drnovšek and drummer, percussionist, music producer Blaž Celarc. They play, create and recreate folk songs from European corners and original songs imbued with passion, grace and power. The songs, full of optimism, humor and strength, saw the light of day in the form of the debut album 'Grad gori!/Burning Castle!', which was released by the Klopotec.
The album bears the same name as its creators: Grad Gori!/Burning Castle!. There are 10 songs on the album; some are based on local folk motifs, others are original, and still others are from the Czech Republic, Sweden and the United States of America. The album opens with 'Lars', a Swedish folk song about the wealthy Lars, followed by the expatriate folk song 'Amerika/America', full of the suffering of expatriates working in American factories. The third, 'Grad gori/Burning Castle', is a Slovenian folk song about peasant uprisings. It is followed by the old Anglo-American military ballad 'Johnny', then 'Jagoda/Strawberry', a mixture of a Czech love folk song and a Slovenian song by Oton Župančič, Kanglica. The sixth track of the album is the love song 'Franc', followed by 'Lepa Jana/Beautiful Jane', a Slovenian folk song from the time of the Turkish invasions. The eighth track of the album is 'Trdoglav', in which Grad gori! combined the Swedish folk song 'Dansa liten piga' with the Slovenian folk song about Marjetica, who is kidnapped by Trdoglav. The next song on the album is Vide Jeraj's children's song 'Sončece/Little Sun', and the album closes with the American hillbilly song 'Whistle/Žvižgaj'.
The castle is on fire! in their music, they rely on the traditions of the nations of the world, which brought Matija Solce, who spends most of his days traveling and touring the world. The songs, despite their folklore origin and atmosphere, are engaged and also talk about the problems of modern times.
Premiere of the album Grad gori!/Burning Castle! was at Cankarjev dom, 30.1. 2018
Brina's mourning voice intertwines with an energetic harmonica, saturated with passion, which dances with a striking violin in a wild dance, on fiery drumming waves of different rhythms. In the next moment, however, the wild dance calms down and gently gives way to a thrilling melody that rises like a mist above the bubbling torrent.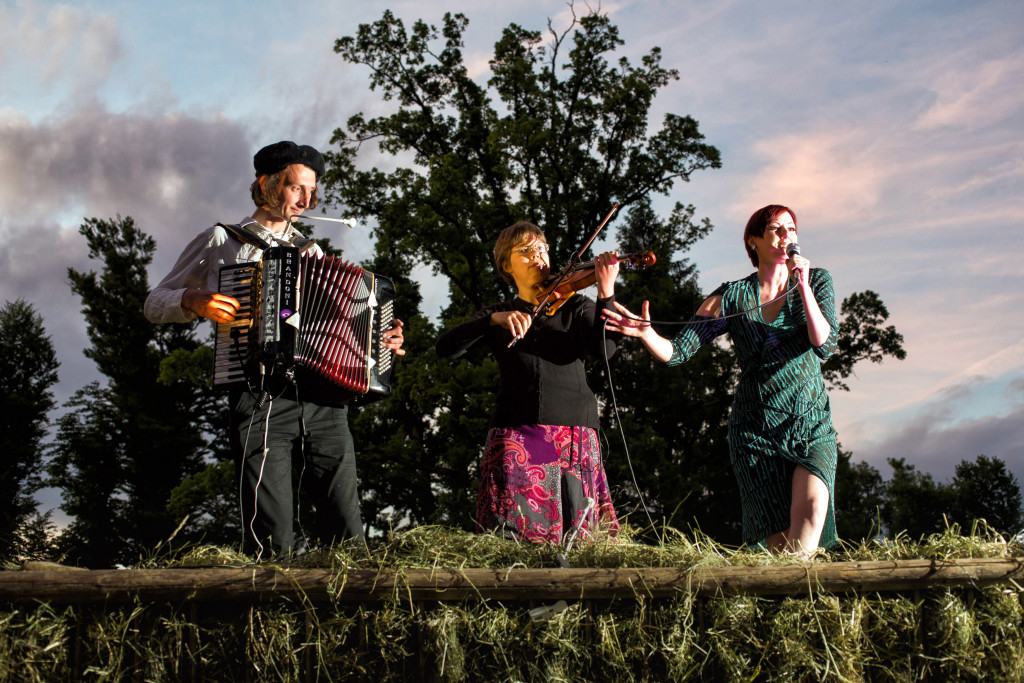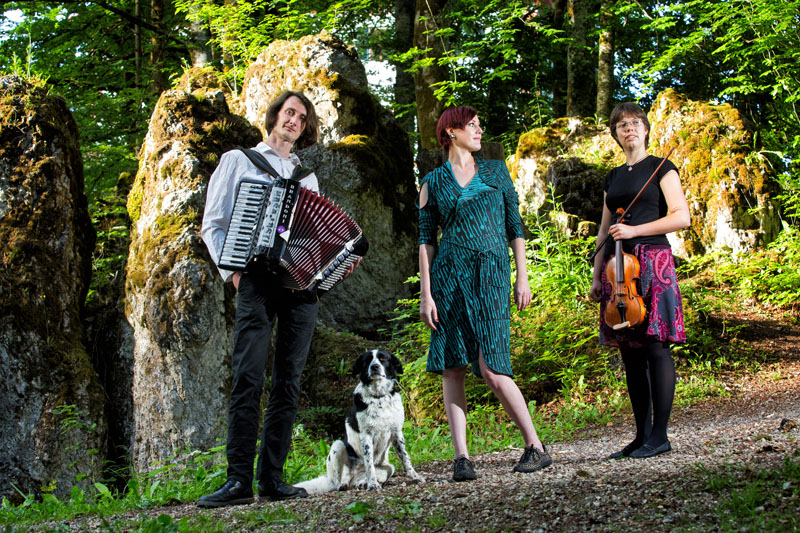 Photos by Nada Žgank
1. Lars
2. Amerika/America
3. Grad gori/The Burning Castle
4. Johhny
5. Jagoda/Strawberry
6. Franc
7. Lepa Jana/Beautiful Jane
8. Trdoglav
9. Sončece/Little Sun
10. Whistle/Žvižgaj
Link for Album Grad gori!/The Burning Castle!: 
https://gradgori.bandcamp.com