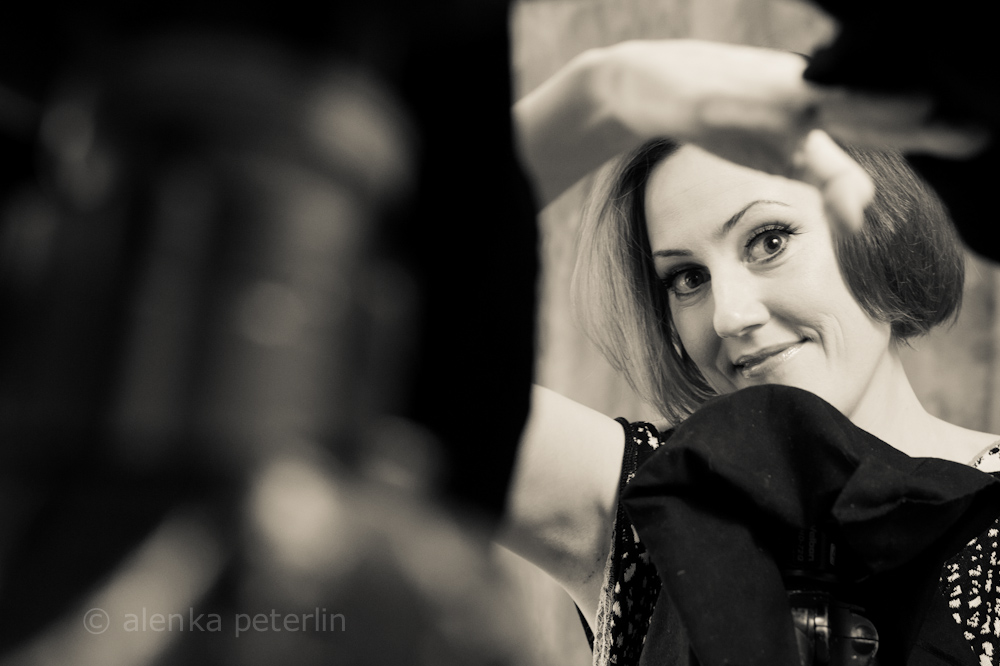 Brina Vogelnik, singer, songwriter, puppetier and graphic designer,
graduated with a Degree (2002) and Master degree (2008)
at the Accademy of Fine Arts and Design Ljubljana.
She colaborates in dance and puppet shows Kinetikon KUD and
TV childrens puppet series (Bisergora/Pearlmountain) on National TV,
runs musical creative workshops for young children
and teaches Singing at Dance Accademy Lubljana.
Her first bigger performance as a singer was at Druga godba festival
with Šišenska bajka (1999). In 2002 she released her first CD Graščakinja
(Lady of Manor) with group composer Vlado Batista and his band String.si
and received an award Zlata ptica (Golden Bird).
With Brina (Brina Vogelnik, Jelena Ždrale, Luka Ropret, Drago Ivanuša,
Nino de Gleria, Blaž Celarec) she released Mlado leto (2004), Pasja legenda
(2006) and Slečena koža (2011) that have made a strong mark
on the worldmusic map with remarkable reviews (fRoots, Songlines and
World Music Magazine, …)
Brina performed at Womex – World Music Expo – in Seville in 2006,
at Charlie Gilett's show at BBC World Service and at World Music Festivals
in Europe, Canada, USA and Mexico.
In 2014 she released a CD Pomladne sanje (Spring Dreams) with Slovenian
multi-instrumentalist musician and composer Janez Dovč. It features original
songs and music which are full of grace and passion, tenderness and power
with Brina's sophisticated voice shining through…
….
Brina Vogelnik, pevka, glasbenica, lutkovna animatorka, oblikovalka VK.
Diplomirala (2002) in magistrirala (2008) je na ALUO iz plastelinske
animacije na smeri Oblikovanja VK.
Sodeluje v plesnih in lutkovnih predstavah Kinetikon KUD, otroških
TV serijah (Bisergora, Pozabljene knjige naših babic) na TV Slovenija,
vodi glasbene delavnice za najmlajše na glasbeni šoli Godalkanje,
poucuje petje na Akademiji za Ples.
Prvic je kot pevka nastopila s skupino Šišenska bajka na festivalu Druga
godba (1999), ta pa ji je odprla vrata do prvega albuma Grašcakinja (2002),
ki ga je posnela s skupino String.si Vlada Batiste in zanjo prejela nagrado
Zlata ptica.
Z zasedbo Brina (v sestavi Brina Vogelnik, Jelena Ždrale, Luka Ropret,
Drago Ivanuša, Nino de Gleria, Blaž Celarec) je izdala albume Mlado leto
(2004), Pasjo legendo (2006) in Slečeno kožo (2011),
ter se z njimi vidno uvrstila na zemljevid glasb sveta.
Pasja legenda je kar tri mesece zasedala top 10 lestvice World Music Charts Europe.
Pesem Poljanska balada je bila nominirana za skladbo leta za BBC World Service,
ki ga je urejal Charlie Gillet.
Leta 2006 je Brina kot drugi predstavnik iz Slovenije v zgodovini nastopila na
Womex – World Music Expo, kar ji je odprlo glasbeno tržišce s turnejami po
Španiji, Severni Ameriki in Mehiki.
Leta 2009 je izdala album z otroškimi pesmimi Bisergora in
ga pospremila s koncertno predstavo BibaMica na koncertu.
Leta 2014 je z Janezom Dovčem izdala avtorski albumPomladne sanje.