Brina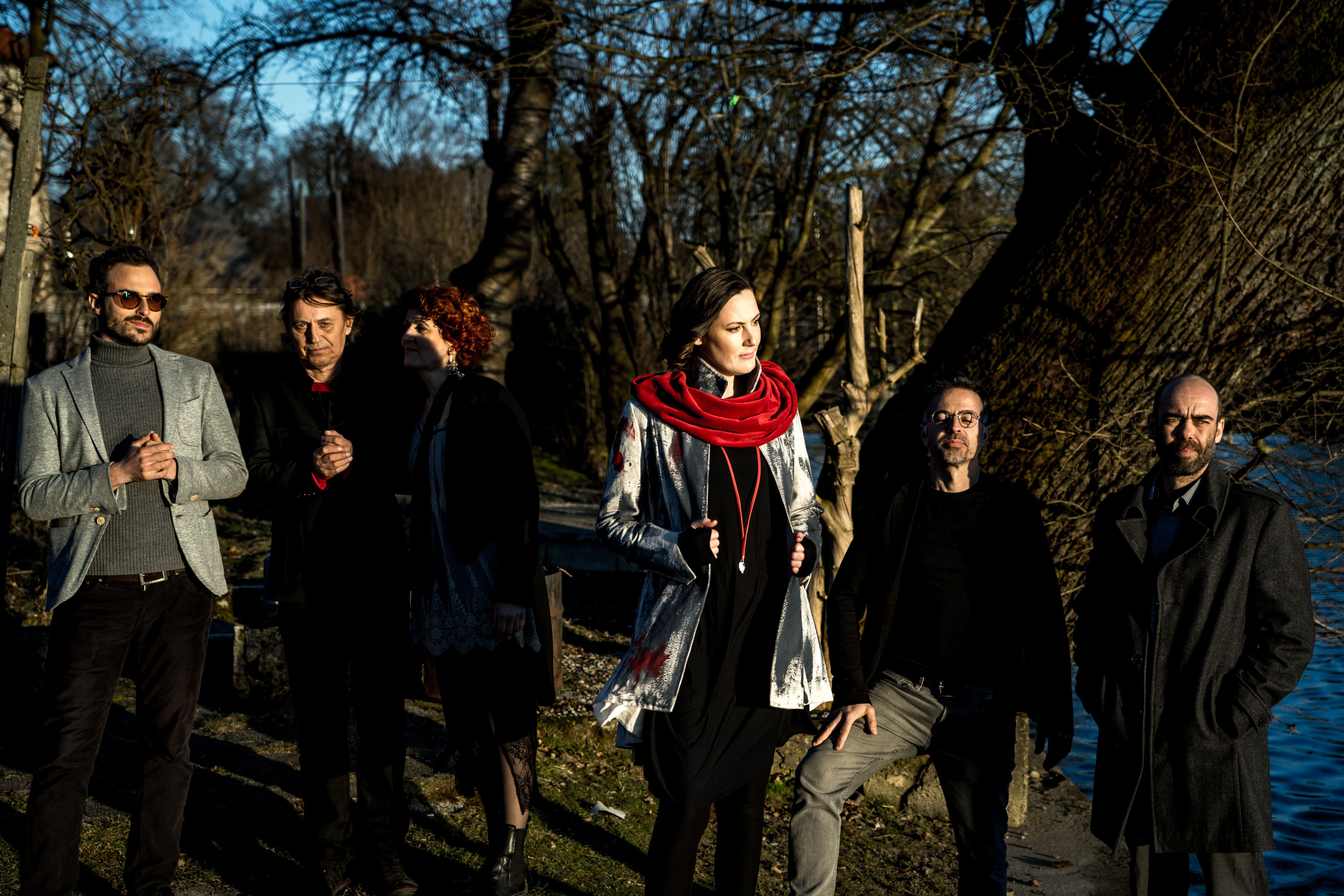 Urban Turjak,  Nino de Gleria,Jelena Ždrale, Brina Vogelnik, Blaž Celarec, Luka Ropret
photo by fotobeležNica Nika Hölcl Praper
BRINA VOGELNIK, vocals
JELENA ŽDRALE, violin, viola, kazoo, backing vocals
URBAN TURJAK, trombone, backing vocals
BLAŽ CELAREC, drums, percussion, clarinet, backing vocals
NINO DE GLERIA, electric bass, double bass
LUKA ROPRET, guitars, backing vocals
..

"Brina have found their voice, and it's a voice that is tender, stormy, lamenting and rejoicing by turn."
Kim Burton, Songlines, May 2007
..
ZELENA ZAVIST:  https://www.youtube.com/watch?v=6qBG2lpLvS4

'Brina — that is, Brina the singer and her band — is in some sense a project, being the house band of Druga Godba, which is not just a festival but also a record label responsible for promotional and other  HYPERLINK "http://www.brina-slovenia.net/index.php?sv_path=390″activities at home and abroad. Brina presented her new album, Slečena koža, which builds on the previous albums in a subtler and more mature way, both thematically and with a more personal presentation and poise, which soon moves away from innocent-sounding versions of folk songs. The band's sound is outstanding, as is its interplay with Brina's voice…'
Review of the Brina concert at Kino Šiška 3 November 2011
Ičo Vidmar, Dnevnik, 7 November 2011
..
'The double helping of Slavic musical heritage served up on Thursday as part of the Druga Godba festival was a fascinating experience. First up were Brina, who a few years ago brought to the Slovenian music scene some of the wide-eyed authenticity and charm so unbelievably absent elsewhere … At the Kino Šiška concert, they showcased their third album, Slečena koža — an album which carries a whole range of music which slowly creeps under your skin and seduces with its difference.'
Zdenko Matoz, Delo, 4 November 2011
..
 "The occasional accompanying vocals or minimalist solo only added to the rich and, in places, ethereal sound of the band.''Brina's new sound also distinguished itself on stage. The band is moving far from its traditional roots — or rather, it is approaching them from the Mario Batelić, Radio Študent, 5 November 2011
..
"Brina's voice is stunning when it tackles old folk songs and packed with emotion when it turns to tales of the everyday. Her band moves easily between virtuosity and minimalism, but is never less than inspired."
Druga godba, press release November 2011
..
'Tenderness and sorrow, grace and passion, sophistication and power, the moment and the movement, old and new, popular and studied, rural and urban, dusty and fashionable, domestic and global – these are just some of the dualities that pervade the work of Brina Vogelnik and her band.' 
Jure Longyka, Radio Slovenia 2